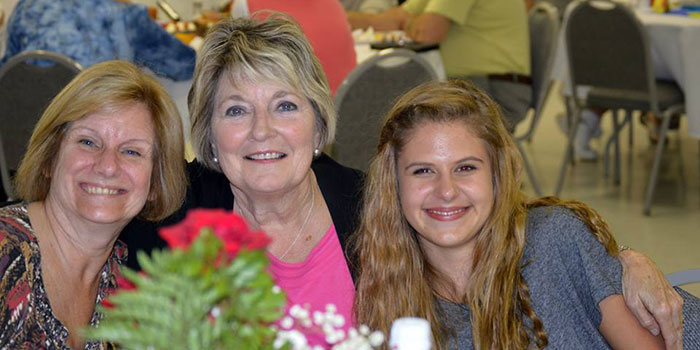 Souper Bowl Sunday Lunch – Potluck soup lunch on Super Bowl Sunday following morning worship service. Bring a crockpot of your favorite soup. Proceeds go to Backyard Missions.
Valentine Dinner – Usually the Friday night before Valentine's Day.
Chili Cook-Off – Bring your best chili and/or cornbread for all to share. Awards for Best Tasting, Best All Around, Judge's Choice, Most Unusual chili and cornbread. Event is open to community.
Race Parking – Welcome Race Fans! ECUMC offers camping, parking, shuttle service and even meals! We welcome race fans back to the area! You are invited to join us Spring Race Week on Sunday morning for a brief worship service for our race fans. During the August Race Week our worship service is Sunday evening at 6:00 p.m.
Mother/Child Banquet – Community event – Tickets for adults $10.00, children $5.00, children 5 and under free.
VBS – Community Event – Shipwrecked will be June 25 – June 29, 2018.
Birthday Dinner – September 5 covered dish – meat and dessert are furnished proceeds will go to UMW mission projects.
Bazaar – First Saturday of October 7am to 4pm – a day you won't want to miss! Food will be served all day including the best breakfast in town, hamburgers and hot dogs as well as fried apple pies. You won't want to miss out on the famous Elizabeth Chapel apple butter and canned goods. We will also have crafts, silent auction, baked goods, farm and garden items, huge flea market plus the live auction at 2pm. We hope you will be able to stop by for a day of fun and fellowship.
Trunk or Treat – Safe and Fun Halloween night for the community. If inclement weather it will be in the fellowship hall.
Senior Adult Christmas Lunch – For Senior Cluster Church members. First Saturday of December each year.
Annual Harry Crowe Christmas Dinner – An appreciation dinner for Elizabeth Chapel members.